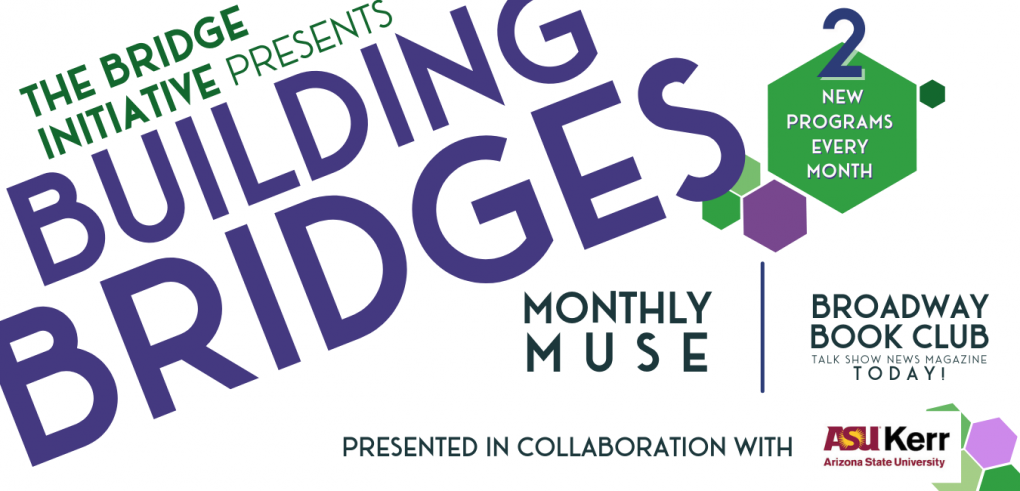 Twice-monthly meetups centering
creativity & community conversation
Next MONTHLY MUSE*
Sunday Jan 9 @ 6p.m.
JUST BE A FEMININE ENDING: a behind the curtain preview
This January's musing is a closer look at the plays, process, and the themes of the Bridge Initiative's upcoming productions of Sarah Treem's A FEMININE ENDING and Maybe Stewart's JUST BE. The event will include performances of excerpts from the upcoming shows as well as discussion and Q&A with the audience.
Featuring:
DANIELA CRISPO (BRIDGE CORE ARTIST, Director of A FEMININE ENDING),
BILLLY RUSSO (AZ Arts Advocate, NY producer of A FEMININE ENDING)
MAYBE STEWART (writer/director of just be)
SUNDAY, January 9 @ 6p.m.
Next BBC! *
Thursday Jan 20 @ 11a.m.
"WHAT IS FAMILY?"
With Special Guest JOHANNA CARLISLE-ZEPEDA
Music Direction by ALICIA FERRIN
Hosted by BRIDGE CORE artists
BRENDA JEAN FOLEY & WILL ROGERS
THURSDAY, DECEMBER 16 @ 11a.m.
The Bridge Initiative is dedicated to making sure our events and programming are accessible to everyone.  To that end, Building Bridges @ ASU Kerr tickets are Pay-What-You-Wish. We invite audience members to choose from one of the suggested price levels, keeping in mind that the higher the ticket price you select, the more bridges we can build. 
COVID PROTOCOLS will be strictly observed at all events.
Regardless of vaccination status, all patrons must wear a mask while in the building.
ASU Kerr has masks, hand sanitizer, and new HEPA air filtration.
The Bridge Initiative is proud to be a fully-vaccinated company.
For ASU Kerr's complete list of COVID safety measures, please visit this page.
NOTE: Because ASU Kerr has a longer history than the local pavement, using the street address in an online map may or may not put you on the right path. Please use the map in the link below to drive the last few yards to the venue!
Building Bridges @ ASU Kerr is produced by The Bridge Initiative in collaboration with ASU Kerr and is supported in part by a grant from Scottsdale Arts.
*Artists subject to change, although they never have in the history of this program. Okay, maybe this program hasn't launched yet so there is nothing on which to base that. But the good news is…we aren't liars. However, we do live in COVID times and, unannounced, we all have to deal with spontaneous emotional, logistical, physical, metaphorical, and sometimes literal shitshows. If at anytime we do have to switch featured artists, speakers, and experts, we promise to switch them out with someone else equally amazing. Now take a deep breath